Cartridge Dust Filters
JK Filters specialise in supplying, installing and maintaining Cartridge Dust Filters to companies of all sizes throughout the UK. Our expertise regarding Cartridge Dust Filters is second to none.
Types of Cartridge Dust Filters
Pleated Cartridge Filter
Pleated Cartridge Filter elements were originally designed and developed for use as truck air intake filters. The media was very simple folded and pleated paper and they served that purpose very well. In the mid 1980's the dust control industry recognised their potential use for low dust loaded non arduous dust collector applications.
Cartridge Dust Filters
The wider application of Cartridge Dust Filters in the 1990's forced the development of sophisticated technical medias to allow the design to be applied to a much wider range of duties. These units are now developed to a point where they offer a very low cost solution to a very wide range of dust control applications.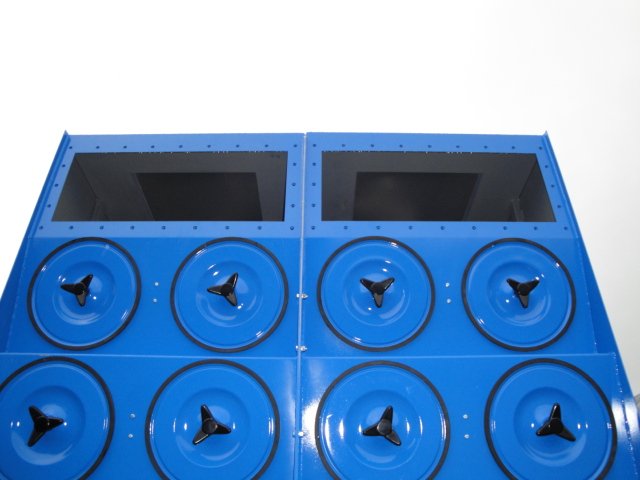 Our Cartridge Dust Filters
The JK Filters Reverse Jet Cartridge Filter employs state of the art media options and a top line venturi assisted cleaning system in robust heavy duty housing at very competitive prices.
Features of our Cartridge Dust Filters include:
Unit mounted fan set
Atex certified explosion relief venting
Inlet shrouds to prevent direct impingement onto the top tier of elements dust containers or screw conveyor /rotary airlock dust discharge.
A complete range of instrumentation and control gear to suit every process requirement.
Our Cartridge Dust Filters are always in stock and available for immediate delivery. Contact our experts today and we'll ensure that you receive the best value for money for your Cartridge Dust Filters.
Cartridge Dust Filters Design
The development of downward airflow designs and inclined media element configurations has resolved the issue of dust retention on the upper surface of the media. It also enables more compact Cartridge Dust Filter design and enhanced cleaning efficiency as every element is cleaned by its own pulse valve instead of rows of elements cleaned by a jet pipe arrangement.
Dust Extractor Maintenance
JK Filters have a team of fully skilled service engineers that can carry our servicing & repairs to most dust extraction filters and dust extraction systems.
LEV Testing
J K Filters offer full LEV Testing and Examinations for only £250+ vat per day.
Work History
See a brief example of our work history, Dust Extractors, Cartridge Filters and Extractor Production.