12 Filter Dust Extractor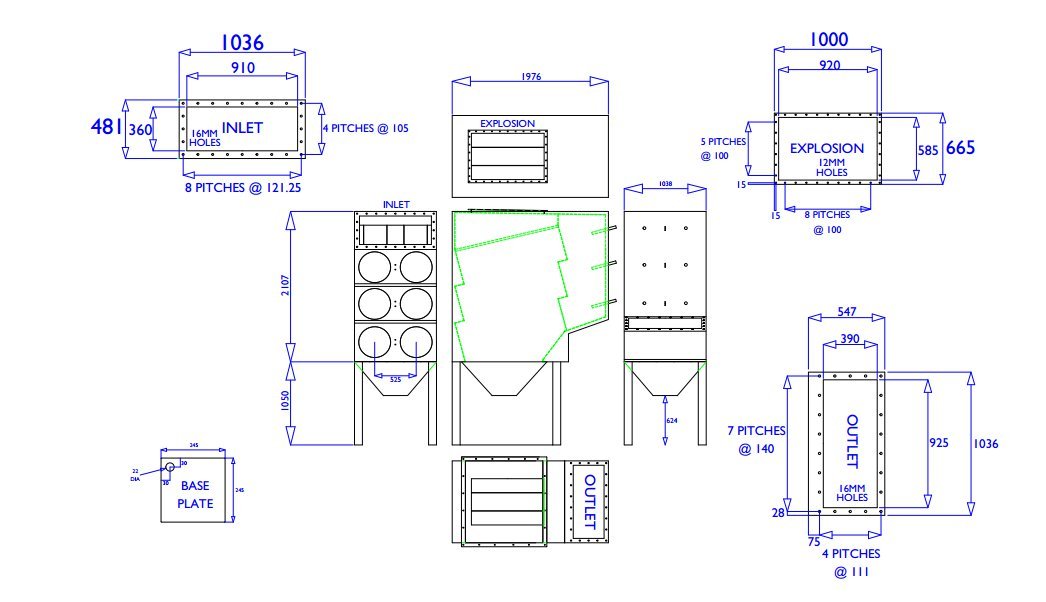 Here at JK Filters we specialise in supplying, installing and maintaining Dust Extractors to companies of all sizes throughout the UK. Our 12 Filter Dust Extractor has been installed in all types of working environments from Factories, Warehouses and Workshops.
Our Dust Extractor in more Detail
The JKF 12 Filter Dust Extractor is a heavy duty continuously rated dust filter employing cartridge type filter elements. The unit features downward airflow for enhanced filtration and cleaning efficiency. The filter media is cleaned in service by a purpose designed reverse pulse cleaning system.
During the filtration phase, the dirty gasses are drawn into the filter under suction from either a unit mounted or remotely located fan set. The gasses are cleaned as they pass through the cartridge filter elements depositing the dust on the outer surface of the media. The cleaned air enters the cleaned gas chamber and exits the unit via an outlet flange located either at the top or bottom of the cleaned gas chamber.
Cleaning of the filter media is facilitated by a short sequenced high pressure pulse of compressed air into the inside of the cartridge element resulting in a brief reversal of normal airflow through the media. This reversal breaks any dust cake on the surface of the media, causes the dust to be dislodged and fall into the filter discharge hopper.
| Model | Weight | Cartidges | Media Area | Airflow m3/hr | Fan Power Kw | Length | Width | Height |
| --- | --- | --- | --- | --- | --- | --- | --- | --- |
| JKF312 | 1720 | 12 | 112-276 | 8400 | 7.5 | 1021 | 2275 | 3513 |
Purpose and Use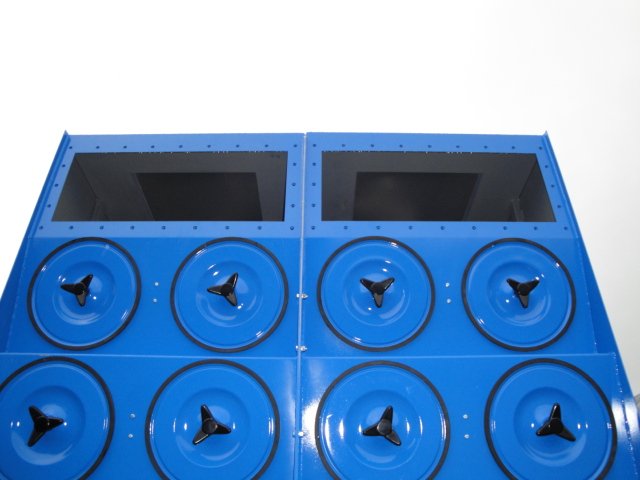 The JKF 12 Filter Dust Extractor is widely used for nuisance dust extraction and collection applications where the dust loading is less than 3g/m3.
Typical applications are powder paint spraying, abrasive shot blasting operations, welding fume exhaust, grinding and fettling, pharmaceuticals applications and foundry sand process de-dusting.
A range of element media types are available to suit implicational requirements.
Why choose JK Filters?
All our 12 Filter Dust Extractor are built in the United Kingdom
Made from fabricated and welded 4mm steel
We can modify your 12 Filter Dust Extractor to suit your requirements
Our Dust Extractors are always in stock, available for immediately delivery and installation
We ship our Dust Extractors world wide